Catering and Accomodation
Catering
We hope to be able to cover the dinner catering fully. Breakfast is included in the hotel deal and we start at 11.00 am each day. Around the c-base there are also several options to grab something in between, if needed.
Wednesday evening we will also have a pleasure trip to Holzmarkt cooperative, please register here by editing the wiki without registration and put your name in the list: (add here the link that we would like to have in the schedule as well)
Beverages can be bought at the locations at affordable prices or brought with you.
Accomodation
BERLIN EAST SIDE GALLERY MEININGER Hotel
Am Postbahnhof 4, 10243 Berlin, Germany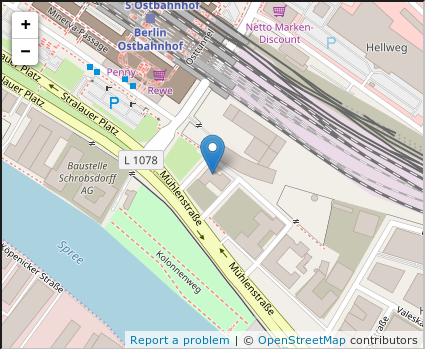 Price: 33,00 EUR p.P/Night incl. Breakfast
Valid for:
07.05.2018 - 13.05.2018

Triple/Quad rooms

50 Beds are reserved until 23.03.2018

25 Beds are reserved until 05.04.2018

Payment at checkin - using cash or creditcard
IMPORTANT NOTE:
Booking from the reserved pool is only possible via email or telephone:
ap@meininger-hotels.com or +493031879767
Stating that you want to stay at "EastSideGallery" mention the Keyword: MESH
Booked Rooms will be held until 6pm on arrival day - please let them know when you arrive later.
Directions to S+U Jannowitzbrücke
From S Ostbahnhof
take S3, S5, S7, S9 (City Railway) every 5 Minutes (2 min)
Or you take a 15 min walk :)
AirBnB
https://www.airbnb.de/s/Berlin-Mitte--Berlin/homes?checkin=2018-05-06&checkout=2018-05-13&adults=1&children=0&infants=0&place
Ask your Berlin friends :)